Get the speed that matches your style, your drive, and your best self right here in Denver – is the 2019 Acura NSX or 2019 Corvette ZR1 right for you? Compare performance, interior, and price to decide whether the NSX or Corvette is the pick for you, then contact us to find out for yourself!
Jump Off The Line

Legendary acceleration is baked into the Acura NSX's legacy.
In fact, it matches the Corvette ZR-1 0-60 performance, achieving highway speed from go in under three seconds. How has Acura engineered legendary speed? Acura NSX Specs:
Sport Hybrid SH-AWD Engines – Front-wheel Twin Motor Unit, Rear wheel twin-turbocharged V-6 gasoline engine, Direct Drive Motor, and 9-speed DCT
7500 RPM maximum engine speed
573 hp Maximum Total System Power
476 lb-ft Maximum Total System Torque
191 mph top speed
The Acura NSX twin-turbocharged DOHC V6 engine redefines performance with competitive horsepower and power.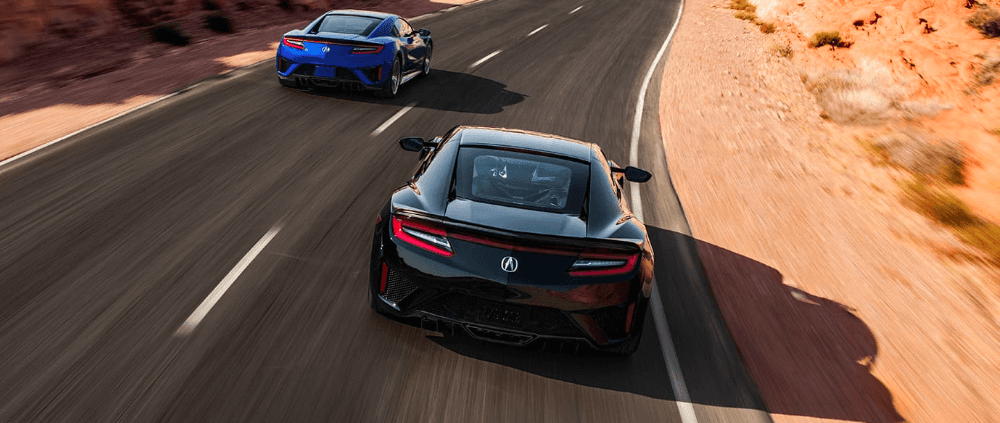 The Difference Premiere Fuel Economy Can Make
Spend more time burning rubber, and less at the pump – that's a goal for any driver, but for those with a love of speed it's an imperative. The Acura NSX provides a unique hybrid experience that provides for longer trips and fewer dollars spent on gas, consistently, across both highway and city driving. The Corvette ZR1's V8 engine offers the familiar rush of the open road and the roar of open exhaust. Acura NSX EPA Fuel Economy Ratings*:
Corvette ZR1 EPA Fuel Economy Ratings:
13 mpg city
19 mpg highway
Your choice, again, is progress versus tradition – where do you see your most meaningful experience?
Interior Features For Ultimate Experience
The Acura NSX offers interior detailing geared toward performance, precision and connection, while the Corvette ZR1 interior provides comfort, control, and the traditional features of an American sports car. Interior options provided by the Acura NSX focus on engineering and design geared toward the driver looking for a progressive experience on the open road, with details that heighten focus at top speeds. Acura NSX Interior:
Tailored performance leather, hidden stitching
Ergonomic padding for elbow and knee support
Low-metered visor, frameless mirrors
Selectable acoustics for Quiet, Sport and Track experiences
Corvette ZR1 Interior:
Microfiber interior trim, custom stitching
Bolster and lumbar seat controls
Auto-dimming mirrors
Chevrolet Infotainment system
The Acura NSX twin-turbocharged DOHC V6 engine redefines performance with competitive horsepower and power.
Speed You Can Afford
Choosing between the Acura NSX and Corvette ZR1 largely comes down to a choice between futuristic vision and traditional muscle. How does an Acura NSX price compare to a Corvette ZR1 price? Contact us today, and we'll discuss options.
Disclaimers: *Based on 2019 EPA mileage ratings. Use for comparison purposes only. Your actual mileage will vary, depending on how you drive and maintain your vehicle, driving conditions, battery pack age/condition (hybrid only) and other factors.