Acura RDX vs. Audi Q3: RDX Has Better Residual Value, More Features
There are several luxury SUVs on the market today with a range of starting prices and available features. The Acura RDX is Consumer Guide's 2018 Best Buy in the luxury crossover SUV category. The Consumer Guide cited "driving dynamics and interior execution are impressive, with value for the money even more so." Take a look at our Audi Q3 vs Acura RDX comparison.
Acura RDX vs. Audi Q3: Price and General Comparison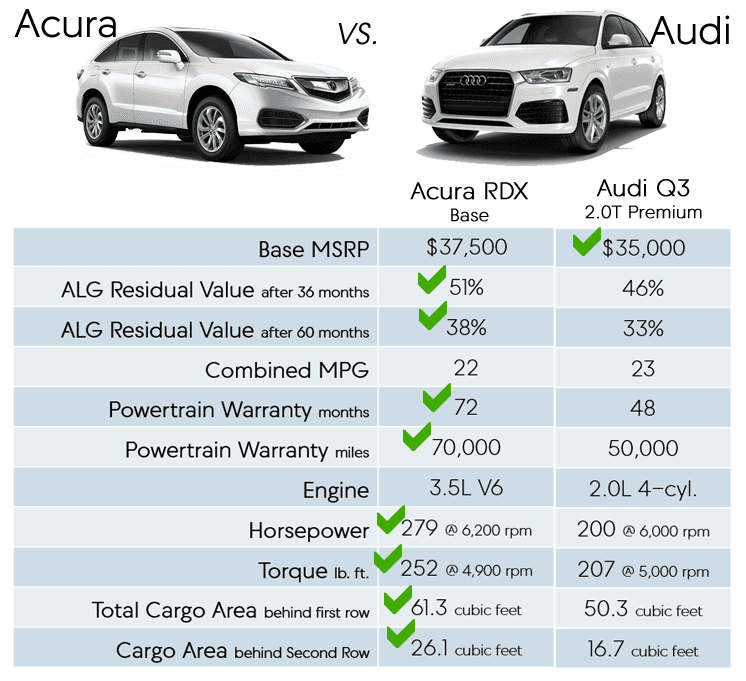 Acura RDX: Better Residual Values, More Horsepower
The Acura RDX has a $2,500 higher starting base price than the Audi Q3. The Acura RDX has a higher residual value than the Q3 for ownership after 36 and 60 months. Acura also has a longer powertrain warranty than Audi. Acura's warranty is 72 months or 70,000 miles, while Acura's is 48 months or 50,000 miles.
The Acura RDX has a 3.5-liter, V6 engine that makes 279 horsepower. The Audi Q3 has a 2.0-liter, 4-cylinder engine that makes 200 horsepower. The Audi Q3 gets slightly better combined MPG than the RDX. The Acura RDX has more cargo volume than the Audi Q3.
Acura RDX vs. Audi Q3: Interior Features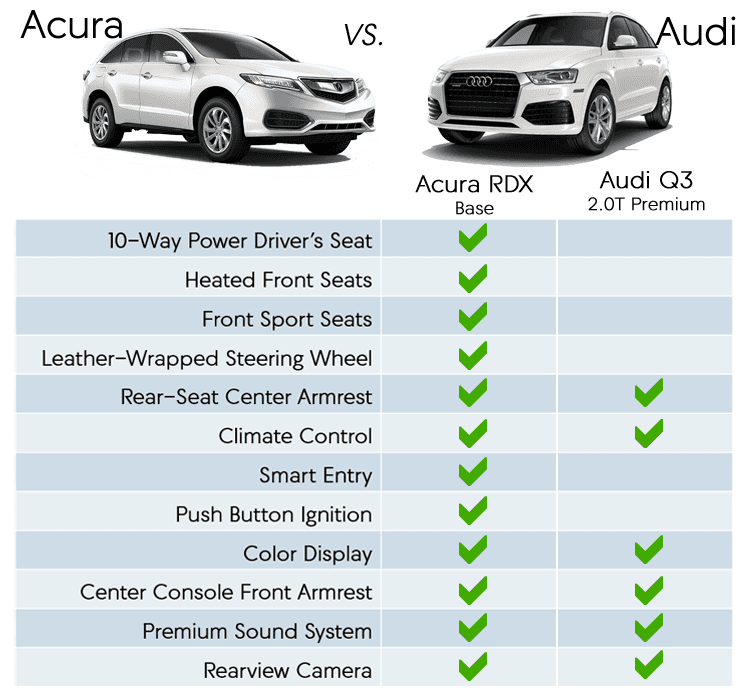 Acura RDX: Heated Front Seats and Push Button Ignition Are Standard
For the $2,500 higher base price you'll get a few more standard features in the Acura RDX than in the Audi Q3. These features include: 10-way power driver's seat, heated front seats, front sport seats, leather-wrapped steering wheel, smart entry, and push button ignition. Some of these features are optional on the base model Q3, but will come with an additional cost.
Acura RDX vs. Audi Q3: Exterior Features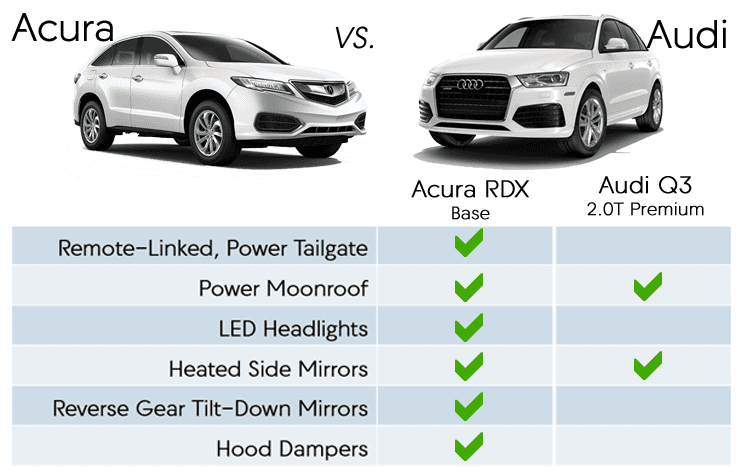 Acura RDX: Remote-Linked, Power Tailgate Comes Standard
The Acura RDX and Audi Q3 come standard with heated side mirrors and a power moonroof. There is no mention if the Q3 comes with reverse gear tilt-down mirrors or hood dampers. The remote-linked power tailgate and LED headlights are available on higher trim levels.
View our inventory of used Acura RDX models, then stop by Fisher Acura in Boulder, Colo. to experience a low-pressure car-buying experience with our honest and trustworthy sales team. Call 303-245-6418 to talk with a salesperson today!