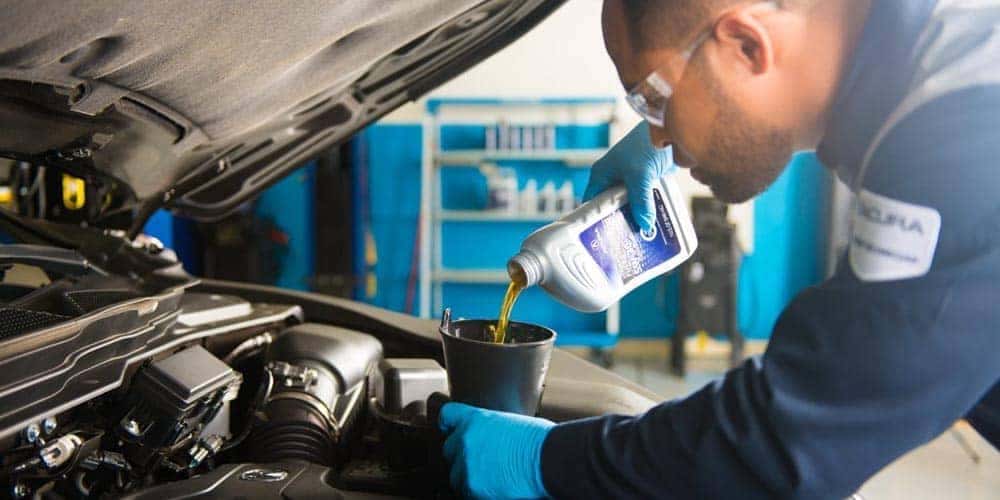 ---
Depending on the vehicle you rely on for your Denver commutes and adventures, your regular maintenance costs may vary significantly. However, when you work with certified technicians at your local dealership, you can expect timely service and no hidden costs. You can even look for service specials to keep your Acura in top shape for less. To answer, "How much is an oil change," we have to look a little closer at your vehicle and its particular needs. Fortunately, your Fisher Acura service center specialists are here to help.
How Much Does it Cost for an Oil Change?
The oil that your Aurora vehicle uses is stated in your owner's manual, and this may affect how much your Acura oil change is. No matter what oil your Acura requires, our parts center has a selection for all those necessary for you and your travels. Naturally, our service specialists use only genuine OEM parts and manufacturer approved products.
In the event that your vehicle needs synthetic oil, the cost of your oil change will be higher, as conventional oil is less expensive than synthetic. Although many standard engines don't require it, synthetic oil is designed for the high-performance of vehicles like Acura.
To best answer, "How much is an oil change," you should consult both your owner's manual and your local Broomfield-area service technicians. They will have the information you need to plan your maintenance routine to keep your vehicle in top condition.
Why Is It So Important to Change Your Oil?
We get it. Regular maintenance can be an expensive addition to your day-to-day costs. If you haven't included the cost of an oil change in your budget, it can even throw a wrench into your monthly plans. With that said, we want to stress how important it is to secure regular oil changes, with approved products.
If you fail to get regular oil changes, it will impact your engine's performance over time, as gunk and grime accumulate. It will also reduce the ability of your engine to accommodate friction, and that means your systems will experience more wear and tear. Some Broomfield drivers have experienced the worst case scenario of overheating and seizing, both of which cause permanent damage, since motor oil is required to distribute the heat from your engine.
Schedule Your Oil Change at Fisher Acura
Whether you're looking for simple regular oil changes or more serious parts replacements from neglect, our service team in Boulder has you covered. Get in touch with us today for more great service tips to make the most of your travels like how to change a brake light and so much more.