Does Car Insurance Cover Hail Damage?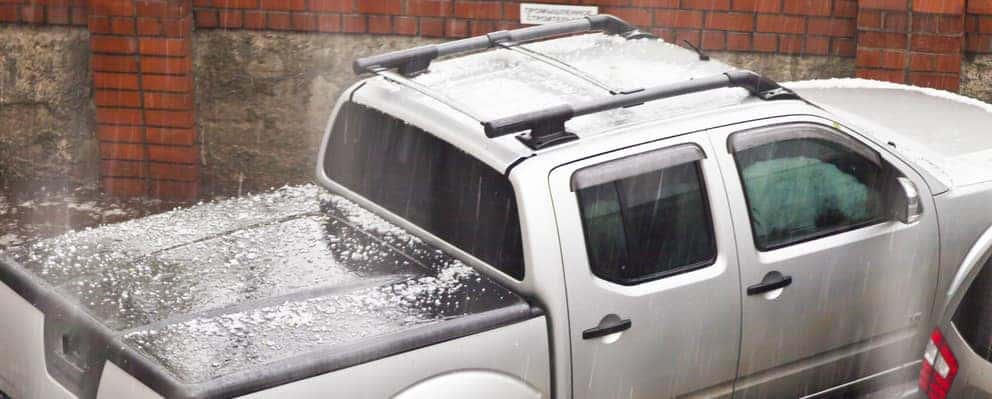 ---
---
When it rains it pours, and sometimes a hard rain turns into hail which can do some serious damage to your vehicle. While you can't always prepare for the weather, you can be ready with the plan to have you back to cover whatever is left in its wake. So, you may be wondering: "Does car insurance cover hail damage?" If you have liability insurance, then you unfortunately won't be covered for hail damage, but if you have a comprehensive insurance plan you can expect some financial leverage in the face of hail damage. Learn more about this unique insurance coverage and even how to prevent hail damage with the experts at Fisher Acura, below.
What Does Full Car Insurance Cover?
In order to know if you'll have coverage for hail damage, you first have to know the answer to what does full car insurance cover. While every driver is required by law to have liability insurance, this only covers damages to another vehicle if you are responsible for an accident. When you opt for "full coverage auto insurance" your coverage will be under its own single plan that encompasses liability insurance, collision insurance, and comprehensive insurance for even more peace of mind. Take a look at what each policy covers:
Liability Insurance: As the only legally required car insurance policy, liability insurance takes care of the injuries and damages incurred by another driver/vehicle in the event of an accident in which you're the driver at fault.
Collision Insurance: Collision insurance will help cover the cost of damages to your vehicle in the event of an accident, even if you're the driver at fault.
Comprehensive Insurance: Finally, comprehensive insurance is a policy that will cover any damage to your vehicle that was not caused by an accident, such as hail damage, a fallen tree, fire damage, theft, and more.
How to Prevent Hail Damage
Along with having the right plan in place to have your back if you have any hail damage, you can also take small steps to protect your vehicle and prevent it from being impacted by the elements. Here are some quick and easy tips on how to prevent hail damage:
Don't have a garage you can park your car in during a hail storm? Depending on where you live and how much parking space you have available, temporary carports are a great option. There are lots of inexpensive, easy-to-build options on the market.
Do you receive weather alerts on your phone? If you have a smartphone, tablet, smartwatch, or another device that can receive inclement weather alerts, you may be able to find out about an incoming hail storm before it's too late.
Cover your car with blankets or a car cover. Depending on the size of the hail, this may not prevent damage entirely, but it can lessen the impact.
If you're on the road in Broomfield when a hail storm hits, you should pull over to a covered lot, such as a gas station or parking garage, as soon as possible. This will not only help to prevent damage, but also keep you out of harm's way.
Use your floor mats: It's a last ditch effort, but most floor mats are actually pretty thick, especially if you've replaced the original carpeted ones with heavy-duty rubber. If nothing else, it can help save a good portion of your hood from dents and scratches.
Find Dependable Acura Service at Fisher Acura
Now that you know the answer to does insurance cover hail damage to cars and even how to prevent hail damage, you can find more service features at Fisher Acura such as why your car is leaking, what TPMS means, and what happens if you don't change your oil. You can even find other features like how to get a lower interest rate on a car loan. If you have hail damage, you can also save when you take advantage of our service specials to get you back on the road. Contact us today to schedule an appointment near Broomfield!
More from Fisher Acura
The new TLX sedan is attractive enough to be the envy of any Boulder neighborhood. But not to be outdone is the beautiful 2023 Acura TLX interior. The spacious interior of this luxury sedan is elegantly adorned with fine materials and enhanced with decadent comfort features. Let's take a closer look inside this remarkable…

If you're looking for a high-end crossover that can also meet your technological needs on Denver roads, then the new 2023 Acura MDX Technology Package is sure to be a perfect fit. So, what is the Acura MDX Tech Package? This MDX package or "trim level" comes with either standard FWD with the option to…

What is the safest Acura? Is the Acura MDX a safe car? The answer is yes, the Acura MDX is one of the safest ways to travel Denver and Aurora – and we're not the only ones who think so! Receiving stellar scores from both the NHTSA* and IIHS**, the 2023 Acura MDX is in…