What Does TPMS Mean?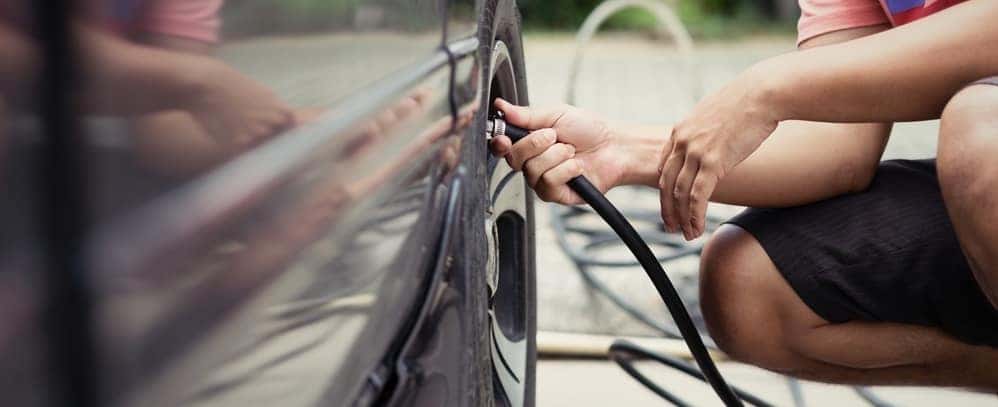 TPMS stands for Tire Pressure Monitoring System, and this warning light goes off when the air pressure in your tires is low. Keeping your tires inflated to their recommended pressure level makes a significant difference in performance and safety, so attending to your tires when this sensor flash is important. Prevent issues and stay safe in Denver by staying in the know on your tire pressure.
Tire Pressure Monitoring System Features

Your TPMS automatically assesses your tire pressure, alerting you if the levels drop too low. Under-inflated tires can cause a variety of safety issues, including:
Excessive tire wear
Poor traction in inclement Aurora weather
Decreased load carrying capability
A flat tire or blowout
Wearing out your tires early is a costly mistake, forcing you to buy new tires before you're ready. Paying attention to your TPMS will help save you money and prolong the longevity of your tires.

Proper Tire Inflation
Overinflated tires also cause issues, so keeping your tires at the recommended inflation is best. When your tires are at the correct levels, you will:
Reduce tread movement, increasing the life of the tire
Reduce rolling resistance, increasing vehicle efficiency
Increase water dispersion, decreasing hydroplaning
Check your owner's manual to find your exact tire pressure levels. This, in addition to regularly rotating your tires, will save you a lot of money and stress in the long term, helping you enjoy your car for years to come.
Keep Your Vehicle Running Properly With Fisher Acura
Have more questions about maintaining your new car? The certified technicians at Fisher Acura have you covered, helping you learn how to check your transmission fluid, how to jump start a car, if car insurance covers hail damage, and more. We're here to help with all your service and maintenance needs, so don't hesitate to schedule service with us today.